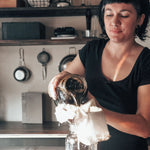 How to Make an Herbal Tincture
A Witches Guide to Herbal Folk Medicine Making
This is a simple method-great for a beginning herbalist. If you wish to advance there are more complicated and precise procedures but for the home herbalist this folk method is time-tested and yields excellent results. You will be able to make fine medicines for yourself and your friends and family.
The key to making good medicine is the quality of your plant material.  Fresh is always best (home-grown or wild crafted). If this is unavailable to you try going to a farmers market or buying directly from a local organic farmer (I like Oshala Farms in Southern Oregon).  If you are unable to find fresh herbs try a well-trusted herbal supplier. I like Mountain Rose Herbs.
Herbal tinctures are generally safe and have been made, taken and used throughout human history. It is really important that you are familiar with the plants that you choose to use to ensure that they are safe, and to make sure that you are using a high enough percentage alcohol starting with 40%.  This is to ensure that the alcohol preserves the plant material and no molding or rotting occurs.
Alcohol has been used to make tinctures for thousands of years.  It is a wonderful preservative, effectively breaks down the cellular walls of most plant materials and allows the medicine to be extracted from plant material. Tinctures are potent and  great medicine for acute symptoms like cold, cough, and flu. I like to use them in mock-tails and also daily for my tonic herbs, though I suspect most herbalists would say tea or food is a better way to consume tonic herbs.  
What is a Tincture?
Tinctures are made by soaking an herb in alcohol (or another solvent)  for a period of time.  I typically allow 4-6 weeks. In herbalist's lingo this process is called maceration.
The word tincture is commonly used to describe an alcohol extract, but you can also use the word tincture to define a vinegar or Glycerin extract as well.  Another word for alcohol or solvent used to make extracts is Menstruum. 
Vinegar and glycerine will also as menstruums I encourage you to experiment with these solvents, just keep in mind that they are not as potent as alcohol, they will extract different compounds and they will not preserve your medicine as well.  Consider using these menstrums for someone who is sober, in recovery or sensitive to alcohol or for medicine also for medicines to be used by children.   I have also seen herbalists blend the various menstrums together to gather a fuller scope of constituents or to modify the flavor of your tincture (glycerine makes it taste sweet).  Once you learn these basics it is up to you to continue on your path playing with the herbs, deepening your relationship with the plants, making medicine and finding your favorite methods and menstruums.  This is the art* of the herbalist.
Why Use Tinctures
Tinctures are an excellent way to take herbal medicines, and one of my absolute favorite ways. They are convenient. Small, easy to store and carry along with you throughout your day or when traveling. They are very concentrated potent liquid extracts. They have a long shelf life lasting a number of years if stored in the proper conditions (dark colored glass jar, air tight lid, cool dark dry place).
5 Safe Herbs
Most common herbs are safe for most people.  Please consult your Dr. or a licensed medical professional if you are on medication or before you take herbs that you are unfamiliar with or unsure of their effects.  
In general, I find the following 5 herbs great for beginners.  Lemon Balm, Holy Basil/ Tulsi, Mullien, Lavender, Dandelion Root.
How to make a Tincture
What your going to need 
2 clean Glass Mason Jars w/ lid (start small, use a half pint or a pint jar at first and work your way up to larger batches)

Scissors / Knife or Blender

Herb of Choice

Vodka (I use a 40% vodka, this is a preference.  Start here if you are first learning. As you gain more experience try out higher percentages (50%, 65% 95% are common) of alcohol and see what you like.  You may also try Brandy, it offers a unique sweet and savory flavor.  DO NOT USE RUBBING ALCOHOL).

strainer/funnel

cheesecloth
-Step 1: Prepare your herb by chopping it into small pieces.
-Step 2: Place herb into your mason jar, fill the jar ¾ of the way with full with your herb.
-Step 3: Fill your jar to the top with your alcohol.
-Step 4: Cover with lid.
-Step 5: Shake vigorously.
-Step 6: Properly Label. You need to make sure that you label your medicine with the date, name of the plant, the % of alcohol you used.  Here is a label template that I created for you.  Download and print or just copy it. Use shipping tape to tape the label onto your jar. I have found that 4x2 inch works well for both mason jars and the 1 oz, 2oz and 4oz tincture bottles, but index cards also work.  Get creative, make them pretty, just make sure you have all the proper information.  Use a sharpie so that it is permanent. 
Labeling is super important. I just want to reiterate this. Always, always, always label your medicines.  The basic information that you need is the name of your herb, the date and the % of alcohol used.  Some other things that you can include are the Scientific/ botanical name, the plant family, and the parts of the plant used, the moon phase or astrological phase or correspondence, where the plant was harvested or sourced.  If you are new and just learning then you can also include what the plant and medicine is for (pain relief, anxiety, heart health, sleep, stomach ache, etc). 
-Step 7: Store in a warm, dry place allowing the herbs to macerate with the alcohol.  Shake it everyday (or as often as you think to).  This ensures that the alcohol thoroughly and evenly mixes with the herb.  It also allows you to infuse your healing energy into the medicine.  The more that you put into this process the more you will get out of your medicine.  
Step 8: After 4-6 weeks your tincture is ready. Using cheesecloth and a funnel or strainer to separate the herbs from the alcohol and strain the alcohol into your 2nd clean jar.
Step 9: After straining, give the herbs a good squeeze to get as much of the medicine out of the plant material as possible. ( the leftover plant material is called the marc you can compost the marc).
Step 10: Cover your new tincture with an airtight lid (you may store in a mason jar or a tincture dropper bottle) and transfer your label over or create a new one if needed.
How to Store Tinctures
Store your tinctures in a cool,dry, dark place, like a cabinet or a closet. Some people have a special herb shelf that they use just for their herbal medicine and supplies.  Just make sure that your herbs are stored conveniently and close enough that you remember to take them.
How to Take Tinctures
When taking tinctures for acute symptoms a standard does is 3 droppers full 3 times a day.  For tonic herbs this may be less, this may be more.  Some herbalists use a homeopathic model and suggest only taking 3 drops per dose,  My recommendation is to start small, taking maybe one dropper full and really tune into your body, see how that tastes and feels and go from there.  You may take tinctures directly into your mouth or into a glass of water or tea.  
Note: In general 1 dropper-full is about 1 mL or ¼ teaspoon.
Thank you so much for reading this post on how to make a tincture. I really hope this helps you.  Please comment or message and let me know what kinds of tinctures you make!
If you want to go deeper with your medicine making or learn the more precise methods (good if you're making medicine for clients or to sell) I have 3 book recommendations for you.